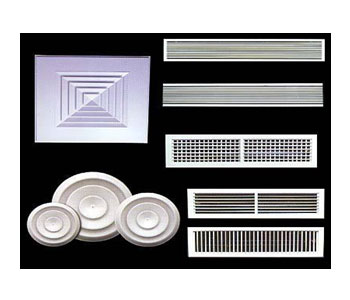 Expert manufacturer and supplier of Grills & Diffusers brings you a variety of options in this product range comprising Linear Grills, Double Deflection Grills, Single Deflection Grills, Modular Ceiling Diffusers, Rectangular Diffusers, and Round Ceiling Diffusers.
Our Grills & Diffusers are designed and developed by extensively experienced and qualified professionals, who realize all of your expectations from a perfect Grill and Diffuser.
Linear Grill :
We design and develop a wide range of Linear Grills apt for contemporary interiors in large sized offices, public areas of hotels and hospitals for proper ventilation.
Specifications :
Aluminum Construction
Removable Louvers
0 Degree, 15 degree,30 degree, 45 degree deflection